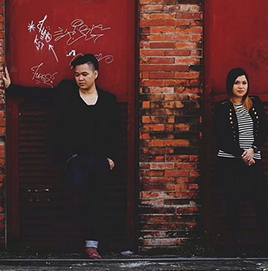 We first heard about Printsonalities from Graphic Designer Isabel Gatuslao and fellow calligrapher and artist, Fozzy Castro- Dayrit, when we inquired about the best printing company to do our Wedding Invitations that is up to par with our expectations. As Designers ourselves, we know the kind of look we wanted, from the paper to the effect that we would like to have in our invites. We just needed the right company to do it. Knowing the 2 ladies' taste in both their recommendation, and also after checking the website, it was decision made easily.
Much regards to Zach, the person who personally handled our requests, had been more than accommodating with the specifications and preference that we would like to have in our invites. He was also very open with our suggestions and would even share his own recommendations on how to make it better.
In the end, we are very happy with the results and each time we would give it to our friends and relatives, they marveled at the quality and detail placed in the invites. But most importantly, Printsonalities was able to live up to the delivery of our vision of what we want in our invites.
We would definitely collaborate with them again soon.
The look of this invite is quite unusual for a wedding, but in a good way, one that leaves a very distinct mark on those who gaze upon it. The union of black, gunmetal gray and metallic red gives it an edgy romantic vibe. This invitation suite designed by the couple (Patrick Cabral and Camille Francisco) features elegant lettering on the cover and an ornate border all in foil stamping against paper reminiscent of fabric. Truly, a set that will delight the senses.