The wedding invitation of Dingdong and Marian is truly a combination of their personalities—of Dong's edginess and Marian's femininity. In this post, we will be treating you to official photos of the invitation that will surely delight your eyes and satisfy your curiosity for the invitation to this this much-anticipated wedding. It is a phenomenal marriage of a great love story, quality workmanship, attention to detail, premium paper, and passion for our craft.
Taking the invitation out of the envelope is a treat for the senses in itself. Your hands will want to feel the pattern (Read: The Dongyan Diaries – The Logo is in the Pattern) delicately embossed onto Italian paper that has the texture of a bespoke suit and your eyes will be mesmerized by the logo in red foil.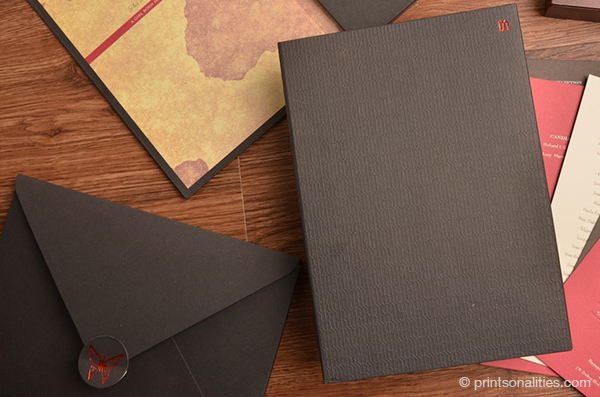 Something worth noting is that the hardbound execution of the invitation evokes the feeling of a storybook, and aptly so because of the invitation's focus on their love story.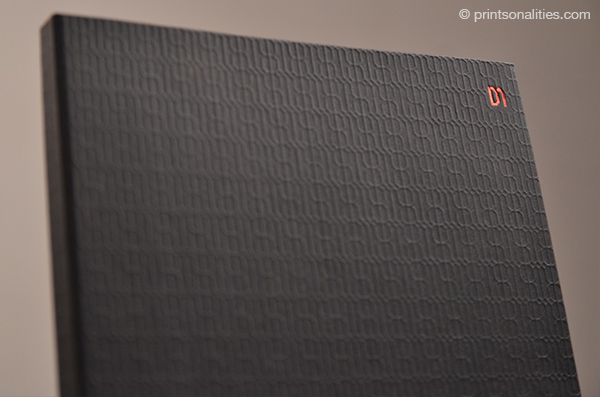 As you spread out the panels you are greeted by a sampling of everything that's in store for you. Not not too much though for it leaves enough mystery for you to want to know more. The invite starts to reveal the narrative with the first few lines of a poem and with the invitation cards tucked away in an exquisite faux-lace wrap with a Spanish inspired pattern.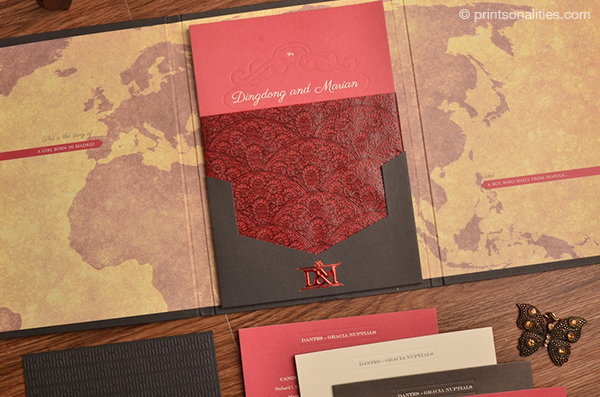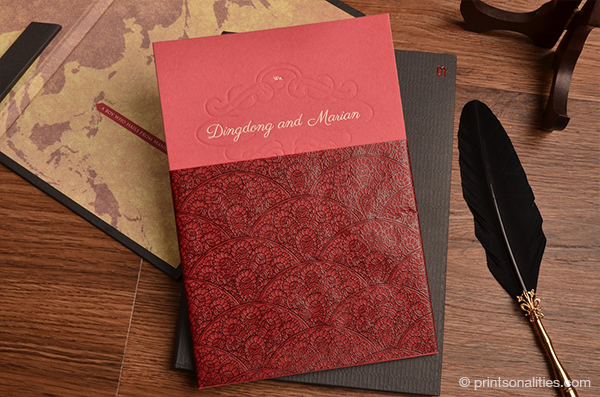 As you pull out the cards from the pocket adorned with their monogram, the rest of the poem is revealed. You see a vintage world map–with arrows pointing to Madrid and Manila, the starting point of the couple's journey–enough to pique your interest and carry you forward to explore the invite.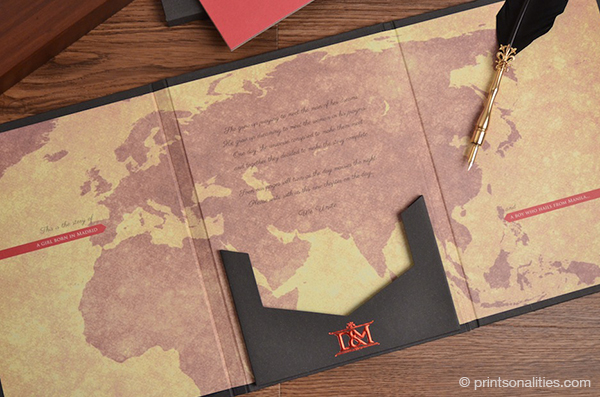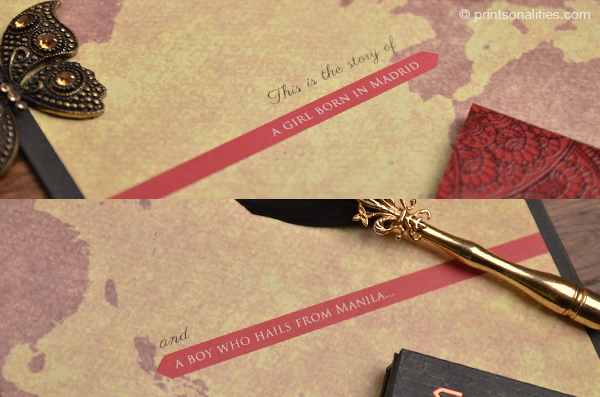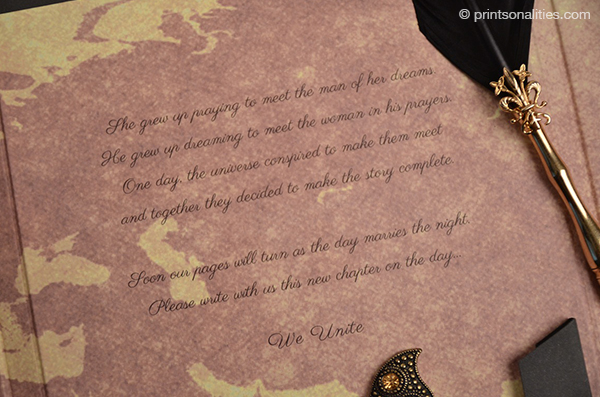 Taking out the cards from the wrap, you count 6 of them in alternating colors of red, black and white. An ingenious way we devised to break the monotony of black in order to soften it for the eyes.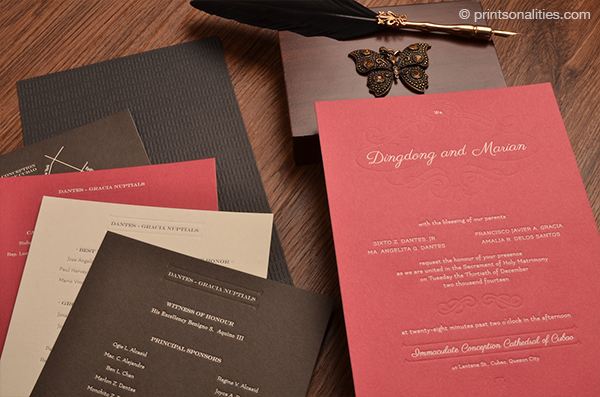 All the cards are backed with the pattern found on the front of the folder for a unified look.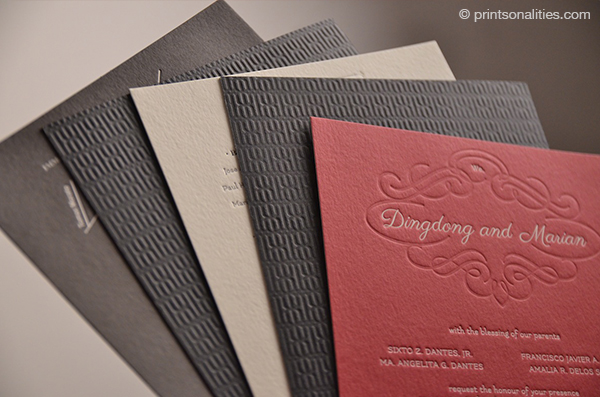 Even the cards are a tactile experience, they went for the best and chose letterpress. While going through the details with your eyes, your hands will surely be exploring the impressions on luscious cotton paper.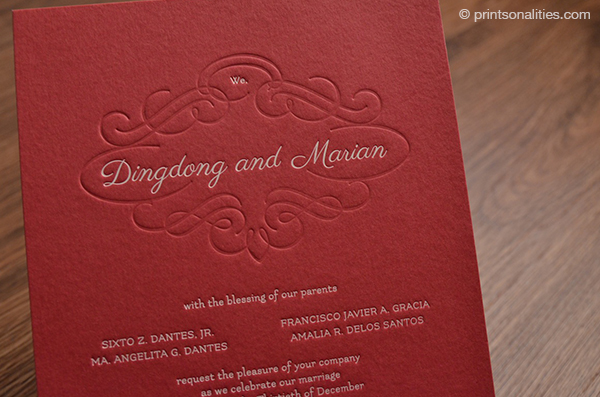 Another interesting feature of this invite is the donation card that asks to donate to a good cause in lieu of gifts. Their beneficiary is YesPinoy, an organization Dingdong founded that is engaged in activities to empower the youth.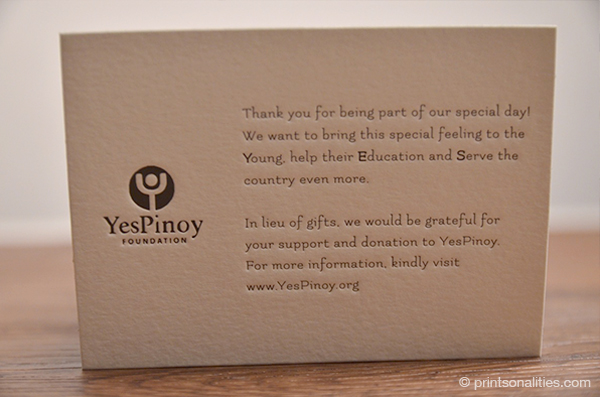 The envelope was made from the same premium Italian paper the hardbound cover was made of. It was addressed in hand calligraphy using silver ink. The entire invite is sealed by a sticker that features a butterfly, referencing where this journey all began: the proposal in a butterfly dome.