Cong. Roman Romulo & Shalani Soledad Wedding Invitation
"Demure, simple and elegant – suggestive of her personality."
This was how renowned fashion designer Inno Sotto described the wedding gown he designed for Valenzuela City Councilor Shalani Soledad, who's going to tie the knot with Pasig City Representative Roman Romulo this Sunday at the St. Benedict Church, Ayala Westgrove in Laguna.
Likewise, these words perfectly describe the full classic invitation suite we crafted for the couple, which bespeaks simplicity, tradition and elegance altogether. "The couple were very hands-on in the entire process of crafting their invites, and initially, what they really wanted was a very classic invitation, particularly with a monogram and a map [since they opted for an out-of-town wedding]," shared Ms. Noky Gatmaitan, client service director of Printsonalities.
To fulfill the couple's wish that their wedding be the quintessential classic, we made it a point that their wedding trousseau would be able to reflect the simplicity of the couple's personalities, without compromising elegance that befits their distinction as distinguished public servants. As our meetings with them progressed, more elements have been added, and the whole concept led us to have one of the best classic wedding invitations we've done to date.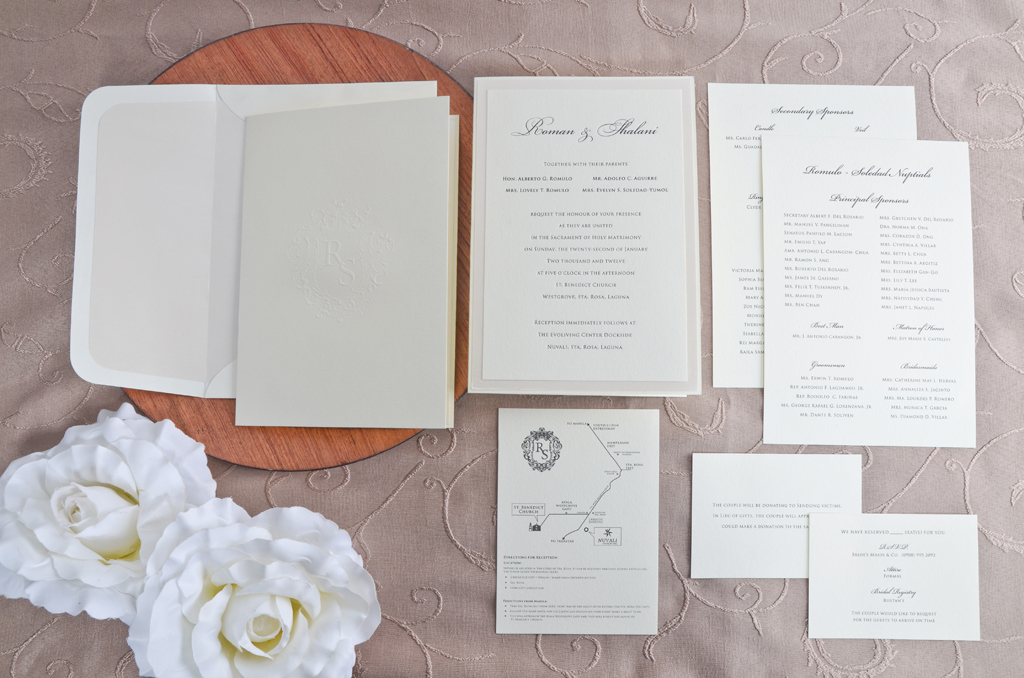 A complete wedding invitation suite
The overall wedding stationery set ordered from us by the couple was composed of a layered and folded main invite in letterpress, bridal entourage, an RSVP card, a missalette, a wedding favor card, an invitation to a pre-wedding party, two thank-you cards, a menu card, table names, IDs for their wedding suppliers, and gift tags.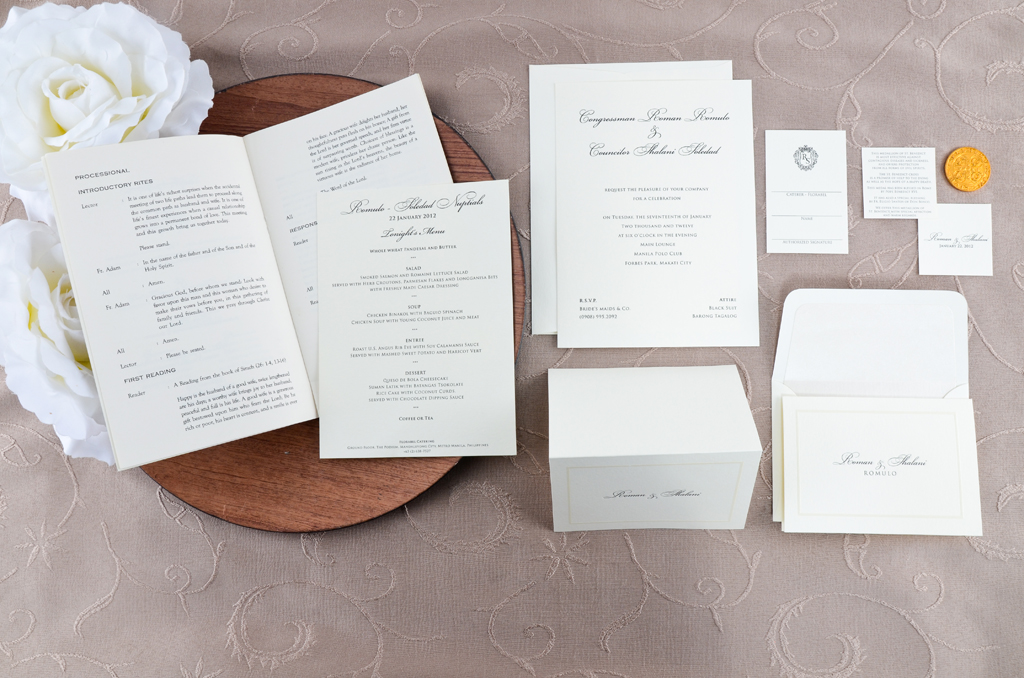 All these components followed the same soft design that excellently reflected the personality of Shalani, known to the public as a demure, conservative and traditional Filipina.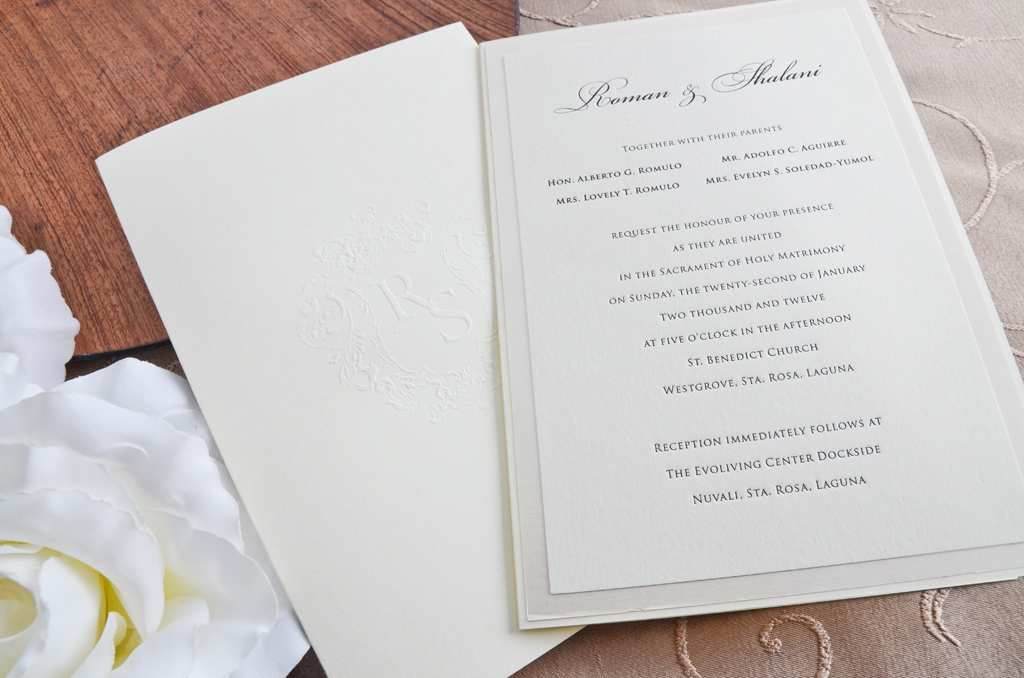 A timeless design for a lasting marriage
More than the all-premium ecru paper, double envelopes, embossed borders, black fonts, letterpress printing, and folded orientation that make up this elegant set of wedding stationeries, what we've rigorously worked on was the customized crest and monogram for Cong. Roman and Shalani.
 "A series of sketches and revisions have been done to provide them with a crest and a monogram, something like a clan's coat of arms, that would serve as the seal of their love and commitment to each other. RR and SS [Roman Romulo and Shalani Soledad], so that's why the monogram is RS," said Ms. Noky.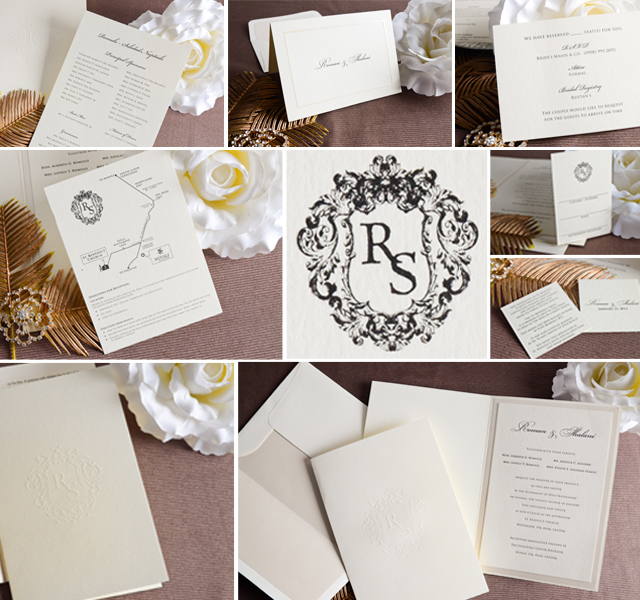 Classic wedding invitation at its finest
Printsonalities sees the couple's wedding invitation suite as a perfect example of a complete classic wedding invitation. The minimalist design, veering away from vibrant colors and flashy patterns, was consistent in all stationery, bringing to life a traditional classic wedding invitation package suitable for weddings worthy of note. Designs like this, according to Ms. Noky, will never go out of style and would always be loved and sought after. Classic is here to stay.
Clean, minimalist layout, stark texts, simple embossed borders, layers of premium paper, personalized monograms. Who wouldn't be inspired to adopt the same class, taste and sophistication?